Argentina Dove Hunting At Its Best!
Welcome to Posta del Norte, one of the finest dove shooting lodges in the world. Posta del Norte is a purpose-built dove hunting lodge located 1:15 north of Cordoba airport. It is perfectly situated between the Macha and Churqui roosts, which are the highest volume dove roosts in Cordoba. Clients from all over the world have been coming to Posta for the past 15 years to enjoy luxurious accommodations, first class service and world class dove shooting! Posta is focused on privacy as groups of 4 or more can reserve the entire lodge in private, which makes it perfect for small groups.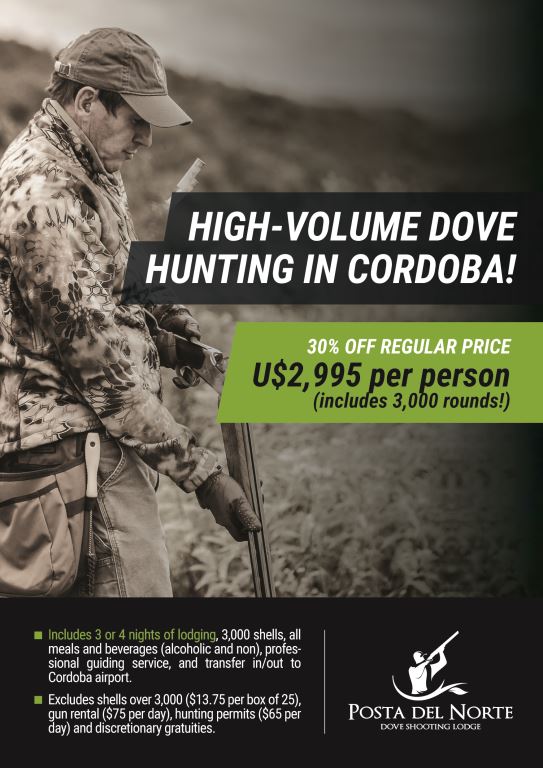 The Hunting


Why clients prefer Posta del Norte.

Clients have been enjoying high-volume dove hunting at Posta del Norte for many years. Reasons include:
Some of the best dove hunting in the world. High-volume, non-stop yet challenging dove shooting
Focus on privacy as groups of 4 or more can reserve the entire lodge. Perfect for family, friends or business
Amazing lodging with six very comfortable rooms and ideal living, dining and bar areas. Perfect place to relax for a few days
Delicious Argentine cuisine including juicy steaks and malbec wines
World class "white glove" service. Most staff trained for 15+ years by previous owner who was known for impeccable service
Very attractive rates for the upcoming season

Rates Overview

$450-$550 per person per day
$2,100 father pays, first son goes free in November and December
Lowest priced shells in Cordoba
Large group discounts of up to 35%

Select Client Comments

"I'm happy to report that our visit to Poste Del Norte was voted the highlight of our long trip, even with the ladies. Everyone, from Leo to the bird boys, did a great job and did everything in their power to make our stay a pleasant one. I'm sorry only that it had to be so short. The food was wonderful and it was hard to say no to some of it when we were full and happy. The field lunches were an event to be remembered and Franco did an excellent job of lining up the shooting areas. I have other friends that might be interested in joining me on a return trip. Some of our luggage didn't make it to Cordoba and Leo was very helpful in getting it back to us a day later."
Best Regards,
Denny Wohlford
"After talking about dove hunting in Argentina for more than 10 years, we finally did it and boy, was Posta del Norte worth the wait! Everything from the unbelievable food (don't expect to lose any weight here), to the non stop hunting was more than anything we could have ever expected or imagined. Hats off to Leo and his entire staff for operating a first class wing shooting lodge. If you think you want to hunt doves in Argentina, let Posta del Norte be your host – you won't be disappointed." OC, Houston
"From the time you get off the plane, until you check your bags to get back on the plane, simply the best. Leo, Gustavo, Christian, thank you very much!! You guys really know how to care of clients. Best hunting trip of my life. Shoot shoot shoot, as much as you want. Never thought anyone in our group would just get tired of shooting, and we all did! Posta is a real gem. Rooms were comfortable and clean. The lodge is exceptional. Food outstanding. The term 'bird boy' is an understatement. These men worked very hard building blinds and keeping guns loaded and in good working condition. Never seen that many doves in my life. What a trip to never forget." CT, OKC
"The Shooting
All four shoots we did were very good. The full day on Sunday was the best dove shooting I have done in Argentina so far .. This is just what the English guns like – lots of driven birds and all heights- great for our style of shooting. The quality of the guns was good. Your shooting team were great, especially Frank, and looked after us very well.. Top job.
The Lodge

Very nicely laid out and very cool. Good for a party from England, private and the group can be all together without having to share rooms!! Leo was charming and a very good host.

All in all a very good trip and I will be sending many clients to you at Posta"
All my best
EW, London